Salon, decorative form for comfortable rooms 
Salon is the name of our tasteful collection of vases in high-fired and glazed terracotta. Different sizes and different glazes are matched and mixed to create a harmony.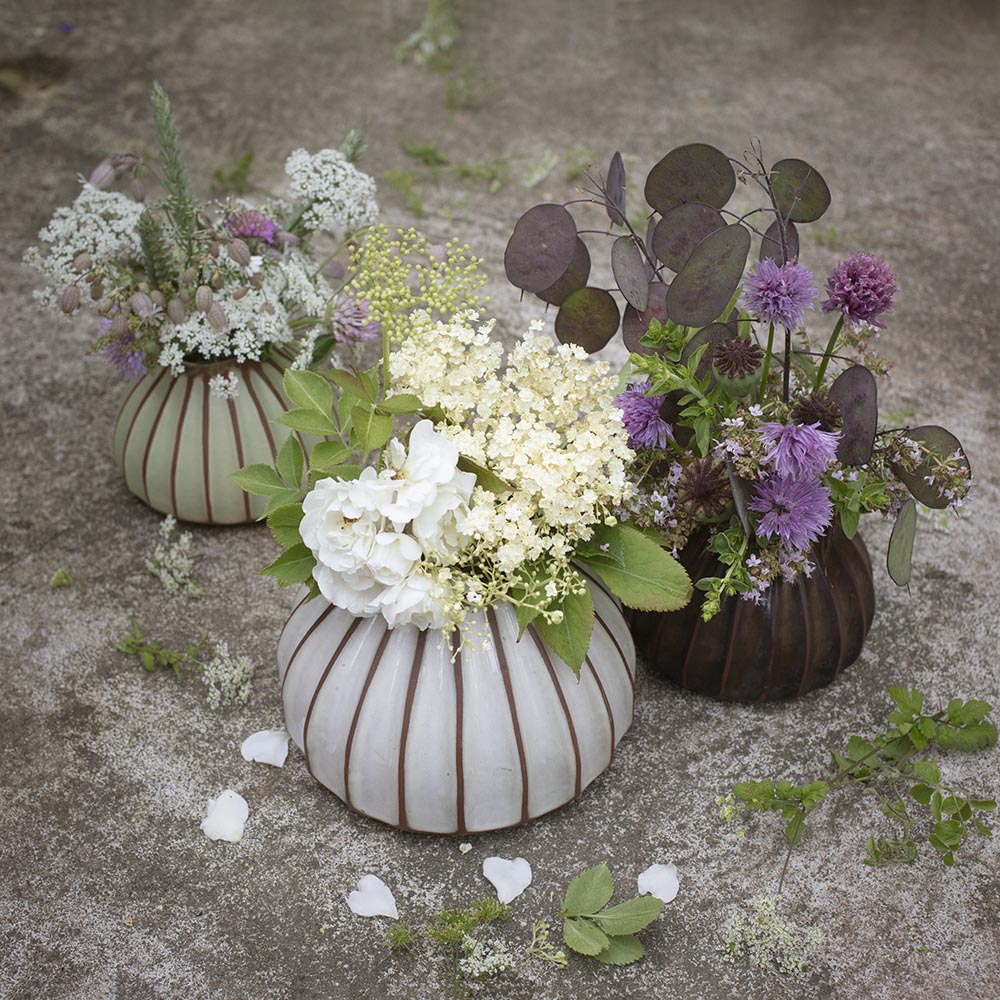 Salon for interesting invitations
If you invite exciting guests, the atmosphere will be just as exciting. If you want to raise the temperature, Salon is the right company. They make the flowers a warm and cosy detail. Wherever the beautiful vases are placed, they add to the atmosphere. They are suitable for the salon, the dining room, the garden, the greenhouse and any place you want to give a little extra care.
The friend of the home florist
Is there anything more beautiful than flowers in the home. Here, all flowers are given a place that makes the room harmonious and cosy. So play with nature. Let it move into one or more vases. Salon is suitable for both cut flowers and the wild bouquets you pick yourself.
The tall vase is perfect as a tulip vase. The crisp tulips give a magnificent impression that the vase captures. For more artistic bouquets, Salon's round vases are available in small and large sizes. They stand firm wherever you place them. The smaller opening allows wild bouquets to rest or hang over the edge. This makes for exciting flower arrangements in different directions.
Retro in a new guise
Sthål's vases in the Salon series have their own distinct design. The beautiful clay stands out and enhances the pattern as it shines through on the ridges. Creating the effect requires a little extra care. The glaze is first applied over the entire vase and then wiped off where you want the clay to show. The craftsmanship and the varied and vibrant glaze mean that no two vases are exactly alike. The style is retro. The colours of the glaze are well chosen to go with all the tones of nature.
Salon vases are the decorator's friend
Whatever room or home you visit, Salon will give it a boost. The design language makes every piece in the series a work of art you'll enjoy. They can stand together as a group or individually. Beautiful vases inspire you to decorate with flowers, create different delicate floral arrangements so pick your wild bouquet. A really good vase never withers, but is beautiful in its own right. The Salon collection suits the home decorator who wants to vary and always have a warm and cosy home.
Hole vases for free view over the table
The vase belongs in the middle of the table, on the window sill or wherever you think it looks best. A tip if you are setting the dinner table is to arrange one with several small vases. That way you can see over the flowers and make eye contact with everyone around the table.