Enjoyable cups in ceramic 
A beautiful cup creates a nice and lovely atmosphere. Sthål has a wide range of different shapes and different colours. Find a coffee cup or teacup that suits your style, your day and your guests. Maybe you will find several.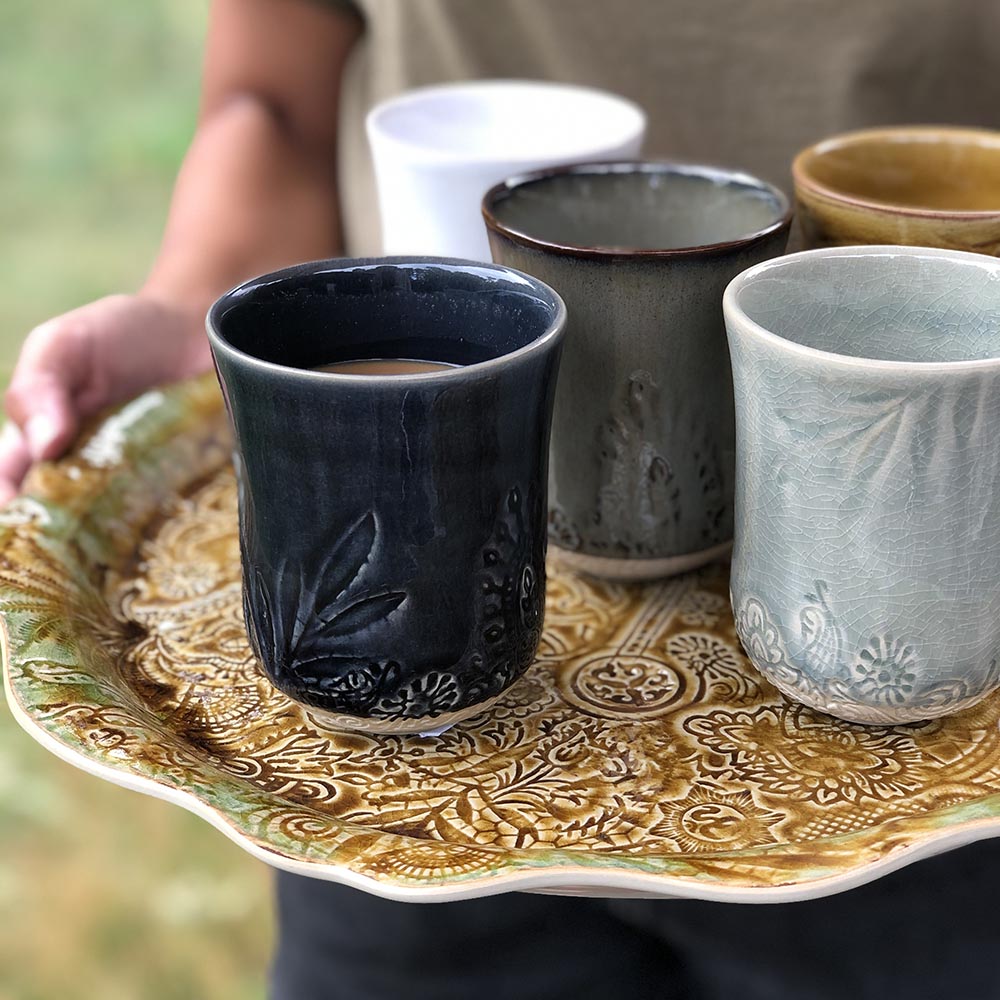 Coffee cup for a nice relaxing moment
They create atmosphere and feeling. Coffee cups are always needed. They're fun to get and fun to give as a gift. They always evoke emotion when they are served. Coffee cup with or without ear? Large or small coffee cup? At Sthål you have many models and colours to choose from. The coffee cup is like a cosy and loyal friend. It says nothing, but means a lot. From early in the morning it stays with you all day. Sometimes it goes with you to your desk and is like an invisible colleague. In the evening, it may join you in the garden for a cup. The coffee cup is an important part of the home. Which coffee cup will be your friend and evoke the right feeling? Yes, you'll know it when you see it! Just as you want different friends, you want different cups for different occasions. So why not mix colours and models with each other.
Cup more than just for coffee
A cup should be comfortable to hold or wrap around if it has no ear. And the coffee cup can hold so much more than just coffee! Just think of all the tea lovers. Make a creative table setting and use the coffee cup as a small soup bowl or offer mulled wine in a cup on a cold winter's day. Look around and see which cup you want to say good morning, good dinner and good evening to. Maybe you don't want to be faithful to one coffee cup, but choose several.
The coffee cup keeps warm
Coffee is probably the world's most popular drink. In Sweden, we love to have a cup of coffee. We are high on the list when it comes to consumption. No wonder, since we are also the people who invented coffee. That wonderful and sacred moment with the coffee cup. Ceramic is an excellent material for coffee cups as it keeps the heat in the cup. Our cups are made of white stoneware clay that is fired at a high temperature to make it durable and able to withstand the rigours of everyday life. That's why they're oven-microwave and dishwasher safe. Looking for a latte mug, espresso mug, coffee cup for a regular brew coffee drinker? Or are you a dedicated tea fanatic. There's sure to be one or more cups that will make your coffee time the best it can be.