Glänta - natural ceramic jar with lid  
With inspiration from the naturally beautiful Swedish forest, we have developed the Glänta collection. It is a series of decorative jars in beautiful ceramic with lids.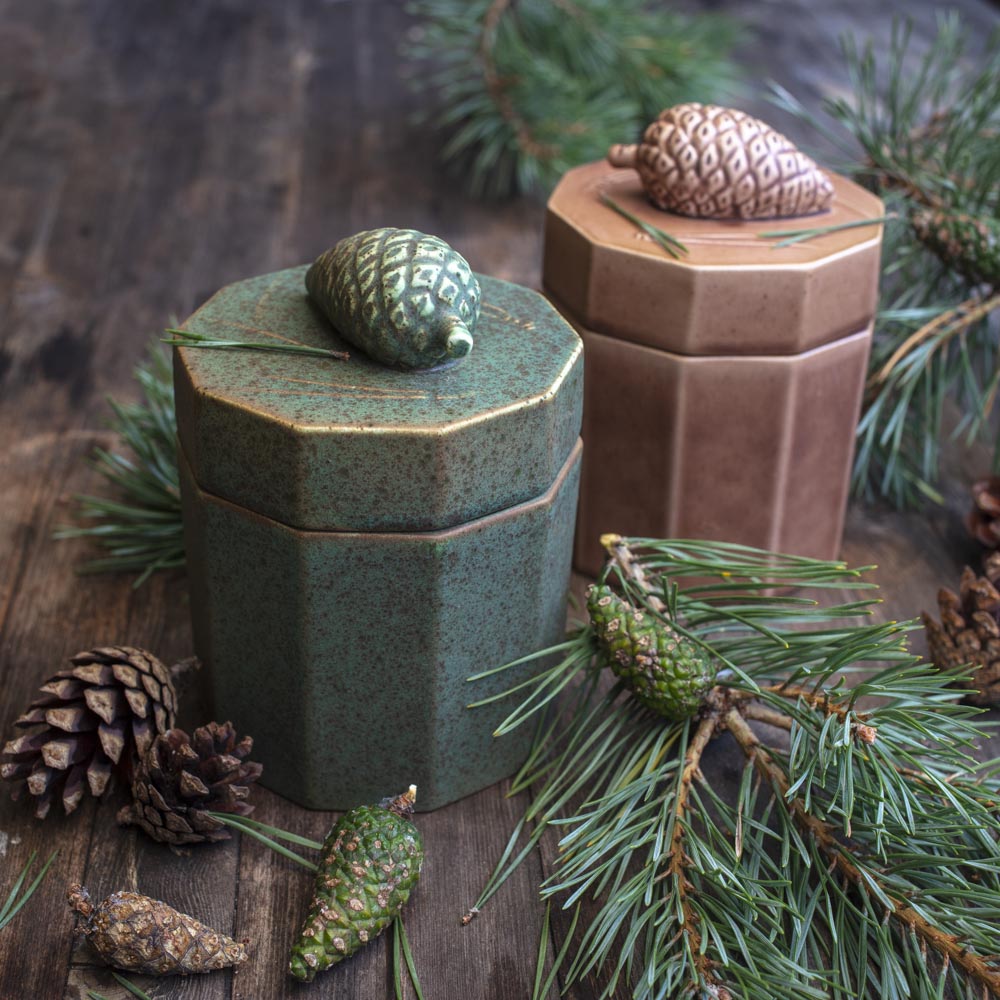 Cans for natural decor
A piece of jewellery in your home. A small hiding place for your personal belongings, for your potpourri or maybe your keys so you can always find them. The Glänta collection is not just any jar, but beautiful stoneware jars with sculpted lids. Each jar is like something out of a fairy tale.
Let nature adorn your home
Yes, that was our thinking when we designed the Glänta collection. We love the Swedish forest and nature all year round. It's a calming environment where everything becomes so natural. The colours, the tones and the magic of the wild and varied. Our walks could sometimes become pure treasure hunts. We filled our pockets with all sorts of things we find along the way. Like the collectors we are, we picked cones, twigs and anything else we could find. Back home, the treasures from the forest became our inspiration.
Cans with natural matt glaze
The combination of our love of nature and beautiful things gave rise to new ideas. A small jar with a lid is handy. I feel like jars are something you can never have enough of. And if you have really nice jars, they should definitely not be in the cupboards, but on the front - so everyone can see them. That's the kind of jar we wanted to create! Said and done. One day in the workshop we decided what they should look like and the result is the Glänta series.
Cans with natural matt glaze
Imagine if you could take some of that soothing forest experience home with you. We sculpted beautiful acorns, stately hazelnuts and cones. There were quite a few before we were satisfied. The harvest of the forest would adorn the lid of our beautiful jar. The next step was to try out a glaze that would do justice to the lidded jar. The result was not one glaze but several.
Let the forest decorate your home
The forest walk became a series of jars with beautiful lids. So, now we can share the beautiful walk with others. Let nature take its place. The beautiful jars are like little pieces of art and sculptures that bring peace and harmony. They are decorative memories of an encounter with Swedish nature.